Representative image
AHMEDABAD: While Gujaratmay be hailed as a fast-growing state industrially, it appears to have miserably failed at providing the environment for high-ranking institutions.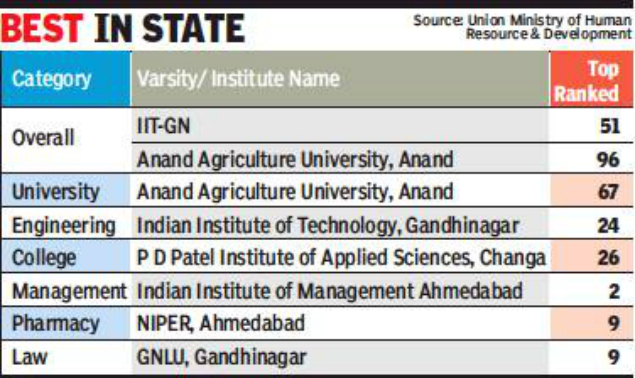 As the National Institutional Ranking Framework (NIRF) rankings for educational institutions and varsities, under the Union ministry of human resource development (HRD), was announced on Monday, only two institutions – Indian Institute of Technology, Gandhinagar (IIT-Gn) and Anand Agriculture University (AAU) – made it to the top 100 institutes (overall) in the country. In the overall rankings, IIT-Gn has been ranked 51, and has slipped 12 rungs from its rank, 39, in 2018. Similarly, AAU was which was ranked 96, also slipped 13 positions against rank 83, last year.
The rankings are decided based on five parameters – teaching and learning resources, research and professional practice, graduation outcomes, outreach and inclusivity and perception.A blow also came to the famed premiere institution in the city – Indian Institute of Management, Ahmedabad (IIM-A) – which slipped to the second position in the ranking of top 100 management institutions across the country. IIM-A had secured the top position among management institutes in India for two consecutive years i.e. in 2017 and 2018. Gujarat's largest state university – Gujarat University – which was ranked at 112 this year in the overall rankings, also slipped by one position against rank 111 last year.
["source-timesofindia"]